At Bindle we've set up PTO tracking for hundreds of companies. We've learned a whole lot about PTO doing this.
Read on for our checklist covering the eight questions you need to answer to create a clear, fair Paid Time Off policy.
Each section has links to our comprehensive free guide to creating a PTO policy for more in-depth information.
This checklist is completely free and available to read in full below. PDF version coming soon.
This free checklist was made by Bindle, Vacation & PTO Tracking Software for growing teams.
Give staff and managers direct access to request, view and manage their paid time-off.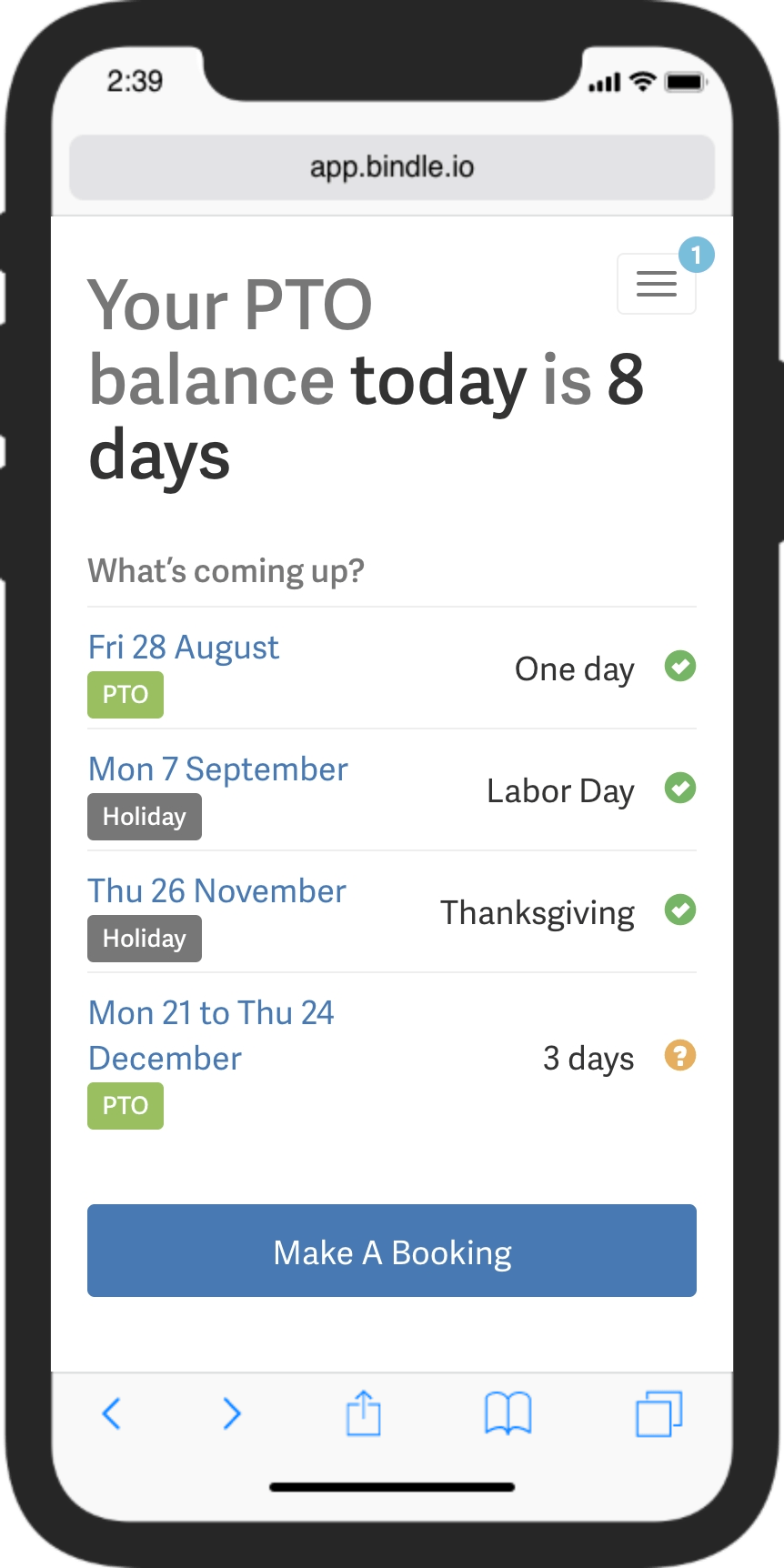 Q1
How much PTO should you you give?
According to SHRM, the average PTO grant for companies that award the same amount of PTO to all staff is 18 days per year (plus the 10 federal holidays).
Many companies however choose to increase the amount of PTO they give based on an employee's years of service.
We recommend increasing allowances over time as it's a great way to encourage employee loyalty. Our free guide includes details of the average number of PTO days given for as years of service increase.
You should also consider norms in your industry and region when deciding.
Q2
How will you grant PTO?
Some companies grant employees their full PTO allowance for the year in a lump sum once each year. Others accrue a small amount each day, which, over the course of a year, add up to the annual allowance.
We recommend granting PTO in a lump sum once each year. Why? People generally find this the easiest way to think about PTO balances and it makes budgeting for things like vacations simpler.
Our free guide has more pros and cons for each method of earning PTO.
Q3
When will you grant annual PTO?
If you decide to grant PTO annually, you also need to decide whether to grant it at the start of the calendar year or the anniversary of the employee's start date.
We recommend using the start of the calendar year. Why? It's helpful for administrators to know that everyone's leave works ont the same basis and that people's balances are directly comparable.
There's more detailed information on PTO year start dates in our free guide.
Q4
Will you limit people's PTO balances?
You may want to prevent your staff from building up large balances of unused PTO.
Options include implementing a "use it or lose it" clause - where leave that is not taken by a certain date is forfeited, or capping the number of days that can be accrued.
We go into these approaches to limiting PTO balances in more detail in the guide.
If the nature of your business allows it, we recommend being as flexible as possible.
We've helped hundreds of companies get their PTO systems up and running on Bindle.
We'd love to put our experience to work for you.
Interested? Either book a call or send us a mail.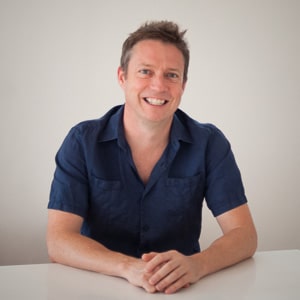 We'd love to hear from you
Q5
Will you have a qualification period?
A qualification period means that new employees have to wait for a period of time before they begin to earn PTO.
As PTO is intended to cover sickness, and legislation covering paid sick leave generally requires that new employees accrue sick leave from day one, we recommend that you don't have a qualification period for PTO.
Q6
Are there factors specific to your state to consider?
PTO is subject to state law. It is important that you ensure that your PTO policy abides by the laws of the state(s) in which you do business.
For example, the treatment of termination payments varies from state to state.
We recommend that you check the relevant state governments' websites and find out the rules that apply to you and your staff. More info in the guide.
Q7
Should you have a written PTO policy?
In a word, yes! A clear, written PTO policy helps protect both your company and staff and is something we definitely recommend.
If you're not sure where to start, head over to Bindle's free PTO policy generator. All you need to do is answer a few quick questions about how you want to handle PTO and we'll generate a policy and mail it to you for free.
Good news - everything you need to know to answer the questions is covered in this checklist.
Q8
How will you manage PTO?
Many companies manage PTO by creating their own custom solution based on email and spreadsheets.
While this approach might seem like a way to save money, the true cost is hidden in the time it eats up, first to set things up and then to keep everything running smoothly.
Before you reach for Excel, we recommend you investigate dedicated tools for managing PTO, including Bindle.
This free checklist is brought to you by Bindle – the way smart companies track PTO.
Bindle solves the four big problems you hit when you try to manage Paid Time Off using only email and spreadsheets.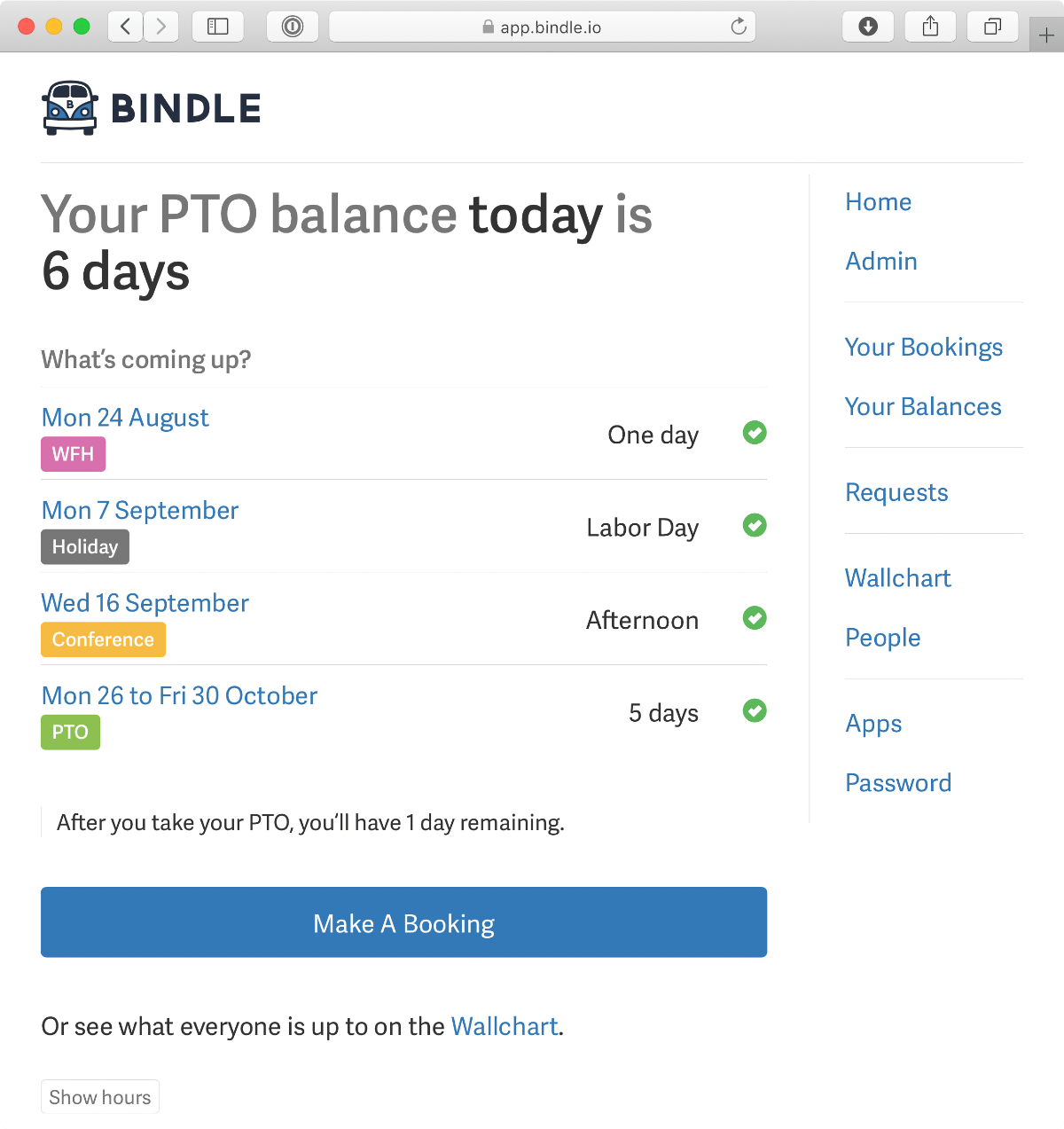 More free PTO resources from Bindle
People Like You Love Using Bindle
This tool has been fantastic! The customer support I have received from the Bindle team is quick and very helpful.
Irene Magripilis
Cloudscene
We are very happy with Bindle PTO tracking! Huge time saver, we were able to get off a paper based, manual system. Employees love it.
Debbie Croft
Digital Addix
Easy to set up and crucially does not need an instruction manual or training when I share with others in the team.