Announcing another Bindle integration! Bindle now works with Slack, the super-popular messaging app for teams.
Bindle is a nice and simple way to track employee time off requests, bookings and balances. You can hook it up to your calendar or use our in-built Wallchart to find out who's off and when.
And now, when you connect your Slack account, Bindle will publish a daily summary of who's off that day.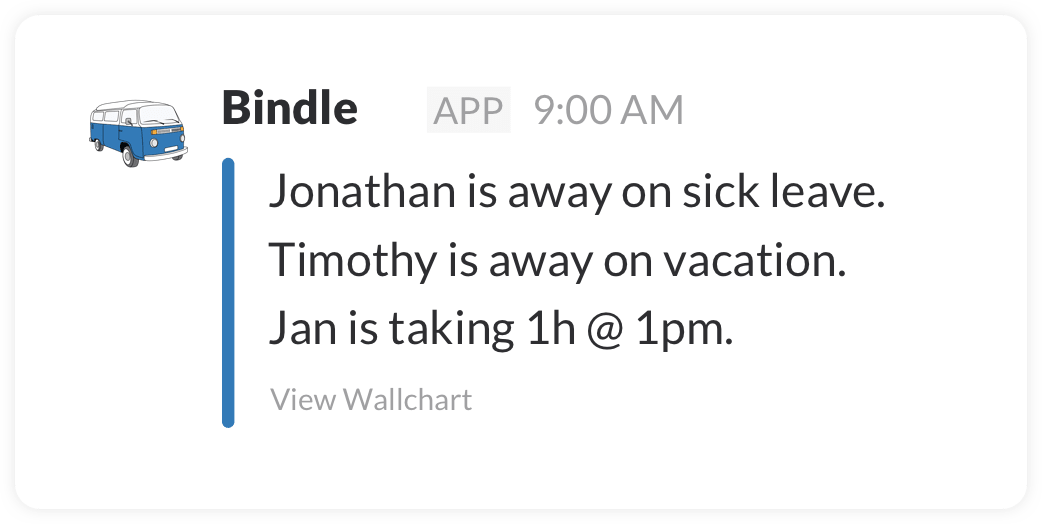 Here's how…
If you already have a Bindle account and a Slack account, the setup process is really simple. Just click this button…


After you log into Bindle, you'll be taken to Slack to grant Bindle access to your Slack account. Authorize Bindle, select the channel you want the daily summary to appear in, and you're done.
Then at 9am every morning, you'll get a concise summary of who's taking time off that day. 😊
Oh, and Bindle is smart enough to not bother you on the weekends or holidays.
This is a great way to easily know who's off and when.
Simple. Bindle. 🎉
P.S. If you need a hand setting this up, just let us know. We'd love to help. No lie.